Perghhh.... dah habis buat sudoku satu buku, 202 puzzles in about 3 months *grin* Actually kat muka depan buku tu tulis "The Little Book Of Sudoku - Over 200 puzzles!". Bila bukak buku, memang la ada over 200... sebab semuanya berjumlah 201... hehehe... lebih satu je dari 200.... Tapi camna aku leh buat 202 plak? Hahaha... aku buat sekali puzzle yang dilukis kat illustration kulit depan buku tu! Ni kira cam obsesif ke? Wakakaka.... :-D
Tapi memang syok la buat sudoku ni, very addictive. Tiny bits of satisfaction every time berjaya siapkan satu puzzle, enough to keep me occupied & happy during lunch time. Wokeh hujung minggu ni kena carik lagi buku sudoku.
Oh btw, aku try gak buat Kakuro,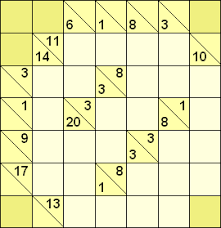 the latest puzzle/game in the market. Tapi susah la sebab yang tu pakai matematik, poning palo den. Hak yang sudoku ni pakai logic thinking je, quite easy once you get the hang of it. Any kakuro fans out there, can give me tips?